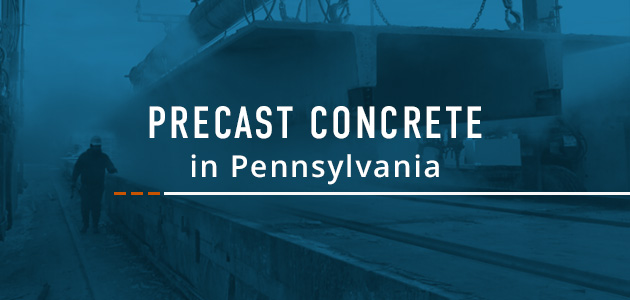 Nitterhouse Concrete Products (Nitterhouse) is a family-owned and -operated precast concrete company in Pennsylvania. We are a single-source provider with all the precast components for your building needs.
Nitterhouse is proud to offer our precast concrete product lines to customers in Pennsylvania and throughout the mid-Atlantic region. We use the highest-quality materials and precision manufacturing processes to create durable products.
Precast Concrete Products in Pennsylvania
Nitterhouse has many precast concrete products available — explore some options below.
Precast Concrete Stadium Risers
Our concrete stadium risers feature fire-resistant construction and offer a long service life. Use our precast risers in entertainment venues like ballparks, gymnasiums, theaters, natatoriums and arenas.
Precast Concrete Panels
Our architectural precast concrete panels are very versatile in support of your unique building designs. These cost-effective panels are durable in any building application. You can choose the finish, texture and color of your precast panels.
NiCore™ Hollow Core Plank
The hollow core planks at Nitterhouse are precast planks made with high-strength concrete and precision manufactured for reliable quality. These planks are ideal for floors and roofs.
Precast Concrete Wall Panels
Our precast concrete wall panels are dependable and versatile in many types of heavy-use structures. You can provide input on the specifications of your wall panel, including the finish, texture and color.
Precast Concrete Stairs
The precast concrete stairs by Nitterhouse offer a faster, easier way to install stairs in your structure. Our concrete stairs are ideal for parking structures, municipal buildings, schools and office buildings.
Precast Concrete Slabs
Our precast concrete slabs have exceptional strength and versatility, making them useful for large industrial complexes and multilevel structures. These flat slabs can used as floor slabs, stair landings and balcony configurations.
Double Tees
The double tees — or double T beams — at Nitterhouse offer secure structural support for floor and roof systems. Install these double tees in parking structures, gymnasiums, manufacturing facilities and other applications. Our double tees have a span capability of up to 75 feet.
Precast Concrete Beams
Our precast concrete beams are custom-made to your specifications and manufactured with ecoSmart material. These beams are available in rectangular, L, and inverted IT configurations for floor and roof systems.
Precast Concrete Columns
The precast concrete columns at Nitterhouse are tailored to your specified length, capacity and haunch configuration. We can manufacture a column in virtually any size.
Contact Nitterhouse Concrete Products for Precast Concrete Products in Pennsylvania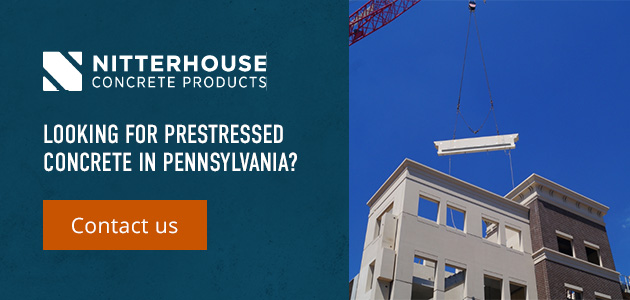 Are you looking for prestressed concrete in Pennsylvania?  Nitterhouse has various precast concrete products made with quality and precision. Our expert team can help you plan your project's design, manufacturing and building steps.
Start your project with Nitterhouse today. Contact us online or call 717-267-4505.