WAREHOUSE – PRECAST CONCRETE
Whether you're constructing a new warehouse for inventory storage or building onto your existing warehouse, precast concrete is a reliable, economical, affordable way to manage your construction needs. Nitterhouse Concrete, established in 1923, has been providing concrete solutions for decades, using the best building materials and techniques to provide you with durable, versatile and attractive precast concrete products.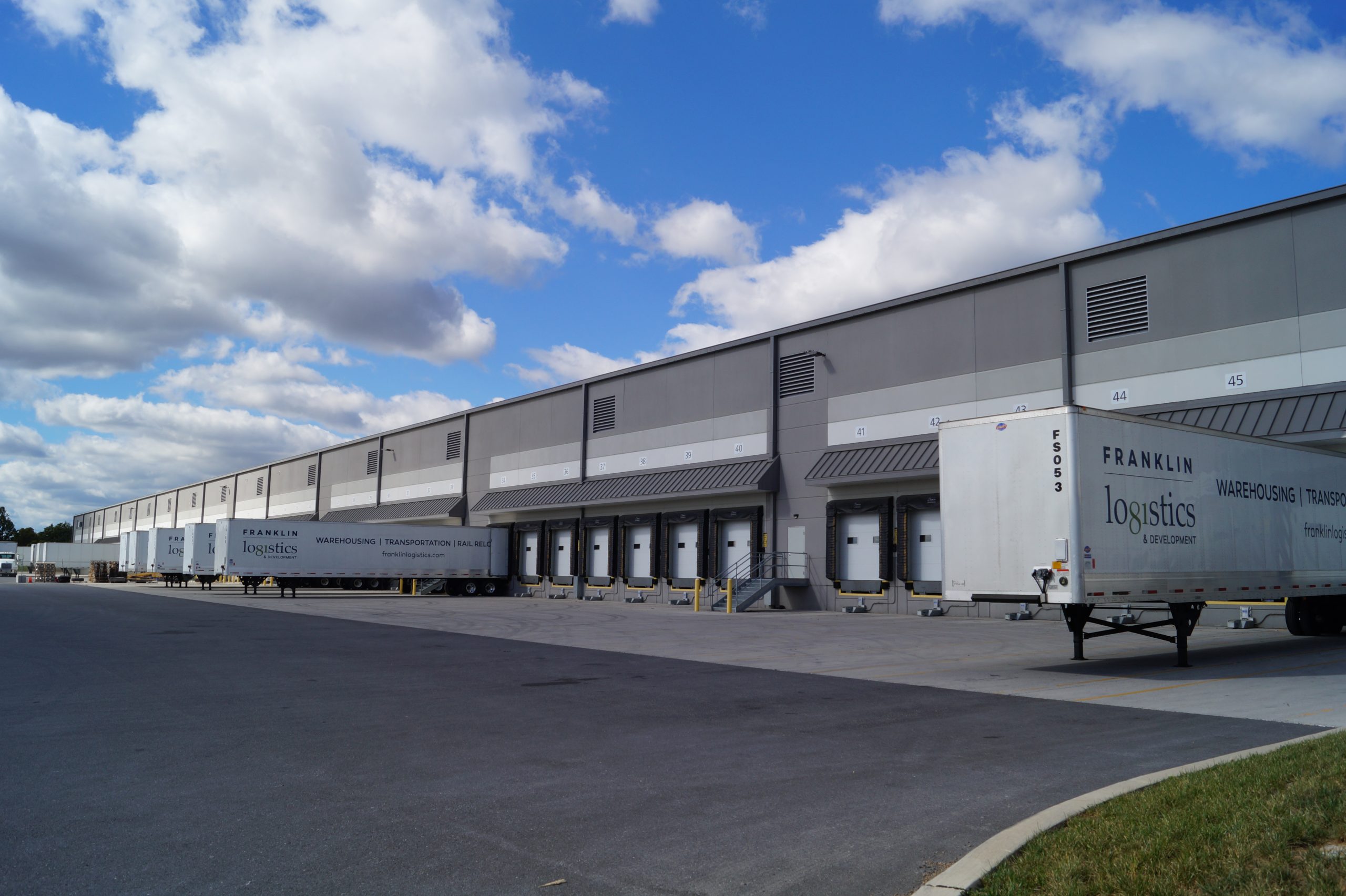 FRANKLIN LOGISTICS | CHAMBERSBURG, PA
FRANKLIN LOGISTICS | CHAMBERSBURG, PA
Summary:
▪ Warehouse & distribution center with both truck and rail docks
▪ Two separate office areas for multiple tenants
▪ Floor space of 376,745 square feet
Learn More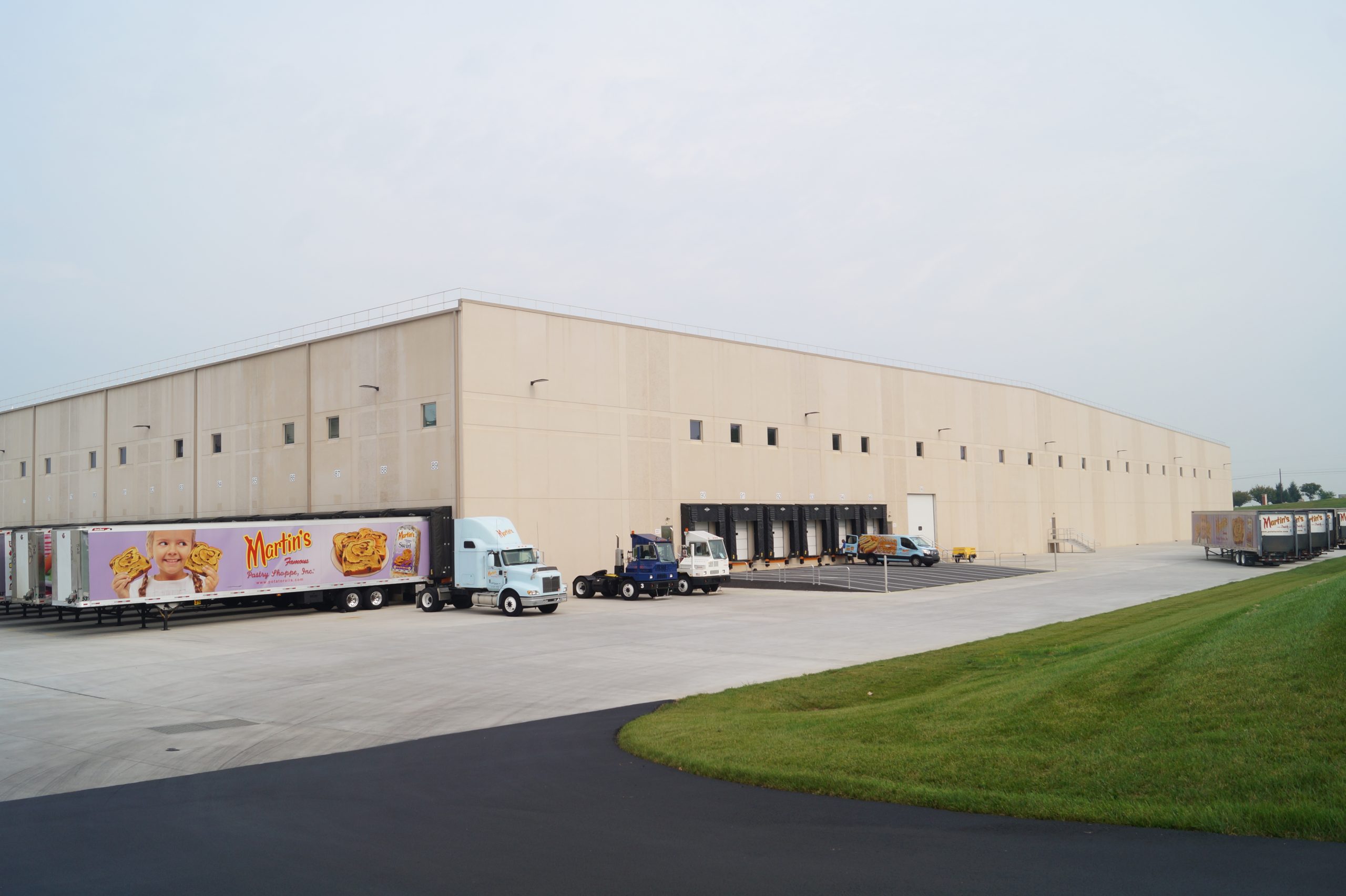 MARTIN'S FAMOUS PASTRY | CHAMBERSBURG, PA
MARTIN'S FAMOUS PASTRY | CHAMBERSBURG, PA
Learn More
WHY USE PRECAST
We provide precast products for the construction of schools, industrial buildings, hospitals, and even parking structures for businesses in the Pennsylvania, New York, New Jersey and other Mid-Atlantic states. Construction professionals often prefer precast concrete when a job needs to be done reliably and on time for many reasons, including:
Precast concrete gives you much more control than concrete that is cast on-site
You are not at the mercy of adverse weather conditions that could delay your project
Precast concrete is a sustainable solution that provides tremendous durability, fire resistance and sound/vibration attenuation
PERFECT FOR A WAREHOUSE BUILD
If you need to get your warehouse up and running fast, precast concrete is a perfect solution. Precast concrete warehouse wall panels are customizable and arrive easy to install, meaning a faster production schedule and lower labor costs. Our precast beams offer great structural integrity.
Some of our other popular products, like our  precast columns and NiCore™ hollow core plank can help you complete your warehouse with a structurally sound and eco-friendly construction you can be proud of. Our team of engineers works with expert designers and your project specifications to complete your project exactly as you want it, on time and at a price that's friendly to your budget.
BUILDING DESIGN ASSISTANCE FOR YOUR PRECAST CONCRETE WAREHOUSE
Designing a large-scale building like a warehouse can be complex. There are many factors to consider and each small choice has a significant impact on the finished building. Take advantage of our design assistance services to make sure your design is optimized for the best possible results for your precast concrete warehouse.
Precast concrete is a versatile material that is easily customizable. At Nitterhouse Concrete Products, we have numerous color and surface finish options that you can mix and match for limitless combinations. Our design experts will help you navigate all those options, identifying the economical selections that will meet all your requirements. In cooperation with your engineers, our design team can also recommend ideal shapes and sizes for your warehouse concrete walls and other structural components that will make the best use of your space.
PRECAST CONCRETE WAREHOUSE CONSTRUCTION
When construction begins, you need on-site assistance that you can rely on. The experts at Nitterhouse provide vital oversight to ensure the construction process goes as smoothly as possible.
From architects to designers and construction crews, we work with all stakeholders on-site to coordinate the safe and efficient delivery and installation of our products. Our team also advises on ideal procedures and handling techniques to protect the structural integrity of your precast concrete warehouse walls, floors and support beams and columns.
We have worked on many large-scale precast concrete building projects, and our experience enables us to quickly address and resolve issues to help keep the construction process on schedule and within budget.
QUALITY ASSURANCE WITH OUR PRECAST WAREHOUSE BUILDINGS
When you choose to construct a precast concrete warehouse, you can rest assured that you've selected a high-quality, versatile material. And when you work with Nitterhouse, you can trust that we will prioritize quality every step of the way and make sure all of your requirements are fully met.
As a single source precaster we also manufacture all the precast concrete products needed to construct your warehouse, so we have the maximum amount of control over the quality of design and production.
With our precast concrete products and services, you can count on:
Strength: Warehouses contain thousands of products, some of which may be bulky and heavy. To securely store and move materials in your warehouse, you need the strength that precast concrete provides. Precast concrete is a highly dense material that naturally supports large loads. At Nitterhouse, products like our precast concrete support columns, beams and double-tees provide the enhanced weight capacity that your warehouse needs.
Resiliency: With materials continually moving in and out of your warehouse, it's inevitable that things may bump into walls or fall onto floors. Precast concrete warehouse walls and floors are resistant to the dings, chips, dents and other damage that can occur from small, common accidents, making it incredibly resilient in the face of daily wear and tear.
Safety: Because precast concrete is produced off-site in a controlled environment, the chance of accidents during construction is lower. Precast concrete is also resistant to most penetration attempts, which helps to prevent break-ins and keep your products safe once the building is complete.
CONTACT US TO GET STARTED
Your storage facility is an extremely important part of your business. You want a facility that can house and protect all your inventory in a structure that is comfortable for employees to work in and presents a positive appearance to any visiting executives, partners or potential clients.
Our precast concrete will have your project standing strong and looking great for years and years. Once you've seen what we can do for your warehouse, we have no doubt you'll come back to Nitterhouse for all of your construction projects.
If you're ready to find out more about Nitterhouse Concrete Products or speak with one of our experts about your warehouse, we'd love to hear from you. Get in touch with us today!
Versatility in the size, shape, and finishes that are available
Efficient in is design, manufacturing and erecting
Resilient to stand the test of time through weather, fire and other events