PRECAST STRUCTURAL INTEGRITY
Nitterhouse is dedicated to producing innovative concrete products that provide superior performance, affordability and sustainability. Our precast double T beams and slab systems deliver a host of advantages in a variety of construction projects and applications. Engineers, builders and contractors get a custom-designed double tee slab system that's flexible to plans, easy to install and provides exceptionally long service life.
Our precast/prestressed concrete double tee is a favorite among parking structure designers. The highly popular double tee slab system is an excellent choice for an economical, dependable floor or roof system on other types of structures, as well. With a span capability of up to 75 Ft., natatoriums, gymnasiums, and manufacturing facilities alike will all benefit from the open space that is possible.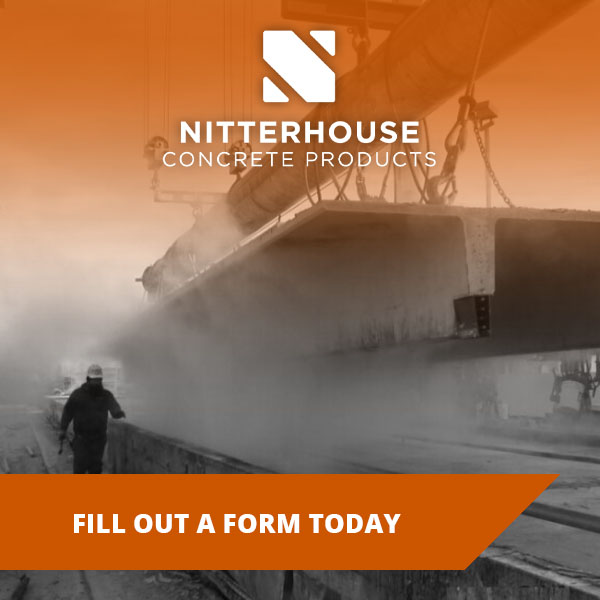 CUSTOMIZABLE DOUBLE TEE CONCRETE
As a family-owned concrete manufacturer with industry experience, Since 1923 we have the expertise and broad capabilities to tailor our products to your specific project requirements. Nitterhouse prestressed concrete double tees are produced in varying widths, lengths, depths, and fire ratings. They can also be specified to include a USDA finish on the underside for food-processing applications. No matter the size of your job or range of challenges, our master craftsmen will custom produce precast double tee beams that represent optimal efficiency and effectiveness.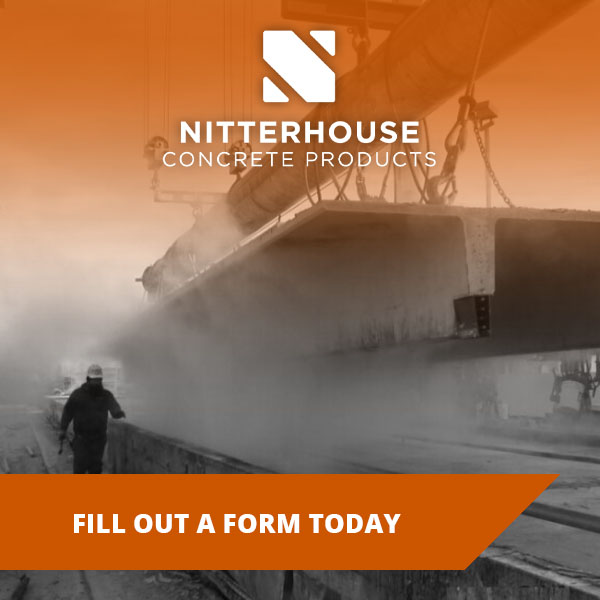 BENEFITS OF PRECAST DOUBLE TEES:
Precast double tee concrete is durable and long-lasting, retaining its value and appearance over time. Additional benefits of using Nitterhouse precast double T beams include:
ecoSmart material – Do your part for the environment by choosing an ecoSmart building material that is manufactured to reduce harmful greenhouse gas emissions.
Flexible sizing – Design with additional freedom by choosing double T concrete that can be customized to your specifications and offers exceptional span capabilities.
Low maintenance – Precast/prestressed concrete double tees are produced to maintain its look with minimal upkeep requirements.
Long life durability – Precast double tee concrete is strong, flexible and exceptionally resistant to wear and tear and impact.
Shorter construction duration – Fast delivery and simplified installation make precast a smart choice for builders focused on completing projects on time and within budget.
Year-round manufacturing and construction – Our state-of-the-art manufacturing facility and crews work 12 months a year to maximize your project scheduling flexibility.
Superior loading – Exceptional engineering and the latest technology ensure our precast double tee slabs and beams provide impressive load capacity and strength. Individual products can be designed to satisfy unusual and heavy load conditions.
On time delivery with what you need when you need it
NITTERHOUSE TAKES THE WORRY OUT OF ORDERING DOUBLE TEE CONCRETE
We're a leading source of high-quality, reputable precast double tee slab and T beams. We back up our complete range of products and services with customer care and product support that is second to none. Our knowledgeable and attentive team will help you quickly and accurately place an order for double tee concrete products custom configured to your needs.
Get your project moving in the right direction with Nitterhouse precast double tee slabs and beams. Give us a call or submit an online request and place your order today!