PRECAST CONCRETE DORMS
It's hard to think of a structure that takes more abuse than a student dorm. Student housing must be built to withstand the constant moving in and out, parties and general mistreatment that is a part of campus life. More importantly, dorms must create a safe, secure environment for the students who reside in them.
Schools, colleges, and universities throughout the mid-Atlantic are turning to precast concrete dorms for their student housing projects. Chambersburg, PA-based Nitterhouse Concrete Products can provide solidly constructed precast walls for dorms, panels, floors, columns, stairs and other essential precast components that will enhance the quality and safety of your campus housing structures.
We are a single source of precast component – what you need when you need it!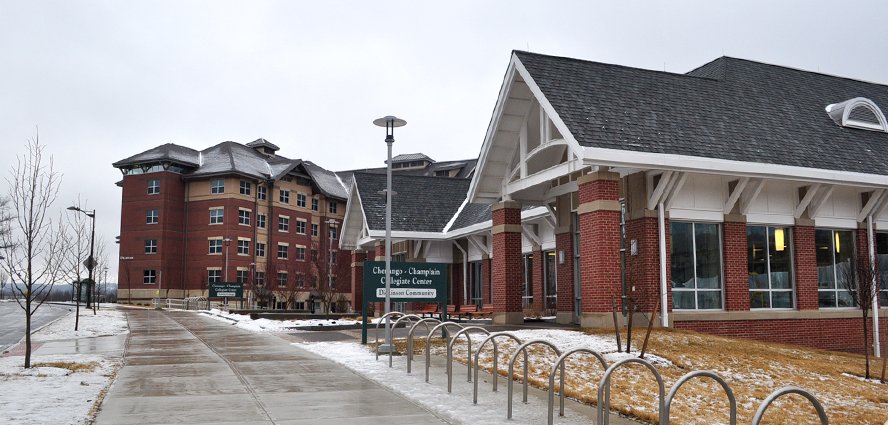 Binghamton University | Binghamton, NY
Binghamton University | Binghamton, NY
Summary:
Replacement Dormitories
2 separate 5-story buildings
Structural steel framing with precast hollow core plank flooring
Learn More
BENEFITS OF PRECAST CONCRETE DORMS
When it comes to student housing, precast concrete offers numerous advantages over other building materials:
Durability: Precast concrete's toughness can handle the challenges of the student lifestyle. It also offers excellent resistance to sunlight, moisture, rot and rust, resulting in lower maintenance costs.
Safety: Student safety is a top priority on every campus. Precast concrete walls, floors and stairs provide good fire protection and strong resistance to all types of natural and man-made hazards, giving administrators and parents greater peace of mind.
Privacy: Precast walls for dorms feature excellent sound insulating qualities, which contributes to a quieter studying environment for students.
Speed: Many educational institutions are growing at a phenomenal rate and must build housing quickly to keep up with the heavy influx of students. The use of precast concrete components facilitates a faster construction process, while also minimizing material and labor costs.
Energy efficiency: The extreme climate through the mid-atlantic into the northeastern U.S. creates a heavy demand on campus HVAC systems. The strong thermal properties of precast concrete increases energy efficiency, which lowers heating and cooling costs.
Improved indoor air quality: Precast concrete does not promote mold growth or contain hazardous chemicals that pose a health risk, which contributes to better dorm air quality.
Design flexibility: Precast concrete's inherent flexibility gives student housing facility designers greater flexibility when developing dorms that meet the institution's functional, aesthetic, safety and efficiency requirements.
PRECAST CONCRETE DORMS MATERIALS
As a leading producer of precast concrete components for a wide range of industries, Nitterhouse Concrete Products can produce high-quality precast dorm buildings to house your students. We've supplied custom precast concrete components for dorm construction projects at Binghamton University and other fine institutions throughout the mid-Atlantic and Northeast.
DORM BUILDING DESIGN ASSISTANCE
There are many size, design, color, shape and finish options to choose from when you build with precast concrete. With this highly customizable material, you have a lot of choices to navigate, and a lot of factors to consider. In addition to picking the most appealing options, all design components must be compatible with each other as well as your space and any existing structures to achieve a cohesive look.
With our design assistance services, you can rely on the expertise of our knowledgeable staff to help you make all the best decisions. We know which choices will be the most economical while still meeting your requirements, and we can help you craft a design and building layout that maximizes the space of your unique property.
By ensuring that we get all the details right at the design stage, we also help to reduce the chance of unexpected problems down the line for an overall more streamlined and efficient precast building process.
ON-SITE  ERECTING SERVICES FOR DORMS
When construction begins, you need assistance keeping your precast dorm structure on track. That is why we offer on-site erecting services so that we can help make sure the process goes as smoothly as possible. From coordinating with designers and construction crews to troubleshooting with architects, we work to oversee everything happening on-site.
With our in-depth knowledge of precast concrete and the vast breadth of experience that we have creating precast concrete dorms and other large-scale buildings, we provide crucial on-site erecting expertise.
In addition to ensuring that construction is going according to plan, we can also quickly and effectively provide assessments and make recommendations to improve construction efficiency. Because we know what to expect when precast concrete is being moved and manipulated during construction, we also know how to get the best results. When the unexpected occurs, you can count on us to provide solutions to make sure that all of the facets of the project adapt to the changes.
QUALITY ASSURANCE WITH OUR DORMS
When you choose NCP for your precast dorm building project, you can expect the highest quality products and services. Precast concrete is naturally durable, resilient and long-lasting, and we manufacture it to your exact specifications. We design and mold all of our precast dorm structure components for superior structural integrity that will keep students safe and comfortable while also saving you time and money on the construction process.
NCP provides everything from precast walls for dorms to hollow core plank flooring and all other precast concrete products that you will need to build your dorms. Being your single-source provider means we can offer enhanced design continuity and quality control as we create and oversee all parts of your building from start to finish.
We also provide as much advice and assistance as possible to make the process as easy and straightforward for you as possible. From ensuring the design is just right to overseeing its execution during construction, we are always checking for quality down to the smallest details.
CONTACT US FOR MORE INFORMATION
When it's time for your next student housing construction project, contact the experts at Nitterhouse Concrete Products to learn more about the benefits of precast concrete. We'll also be happy to provide a free precast concrete dorm project estimate.
Versatility in the size, shape, and finishes that are available
Efficient in is design, manufacturing and erecting
Resilient to stand the test of time through weather, fire and other events