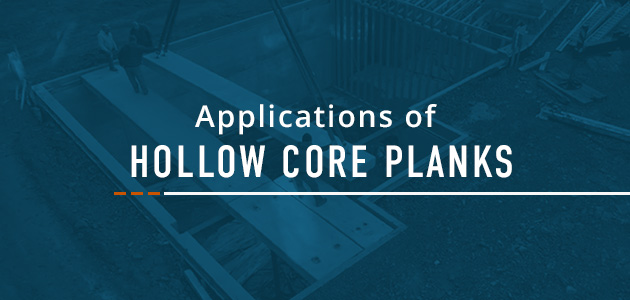 The NiCore™ hollow core concrete plank by Nitterhouse Concrete Products (Nitterhouse) are precast plank made from high-strength concrete with voids in the middle. These precision-manufactured plank are a very popular floor and roof system specified by contractors, builders, architects and engineers for building projects.
Explore how hollow core plank are used and their various applications.
Why Use Hollow Core Plank in Building Structures?
The qualities of hollow core plank give this building material many advantages:
Smooth bottom surface: We manufacture these plank on high-quality steel beds, creating a smooth bottom surface. This finish makes hollow core plank great for painting in exposed ceiling applications.
Excellent load-bearing ability: Hollow core plank are relatively long span, and can hold a significant amount of load. This span and load-bearing capacity combination lessens the need for inner walls and columns.
More efficient floor space: Load-bearing walls and columns in other systems use up floor space. Since hollow core plank structures do not need as many supports, your building can have more livable space with fewer support walls.
Sound and vibration control: The plank have natural sound attenuation to dampen noise for a quiet environment.
Superior durability: Hollow core plank are much stronger than other building materials, ensuring a safe and long-lasting structure.
Energy efficiency: Hollow core plank have excellent thermal retention properties, which helps reduce the energy consumption required to heat or cool the building.
Fire Resistance: NiCore plank are inherently resistant to fire and can help reduce the risk of catastrophic structural damage.
Building Types That Use Hollow Core Plank
Hollow core plank are ideal for both simple and complex residential and commercial buildings. Use them for single or multistory structures like:
Houses
Health care buildings
Commercial buildings
In these buildings, NiCore hollow core plank are used for:
Roofs
Subfloors
Floors
Mezzanines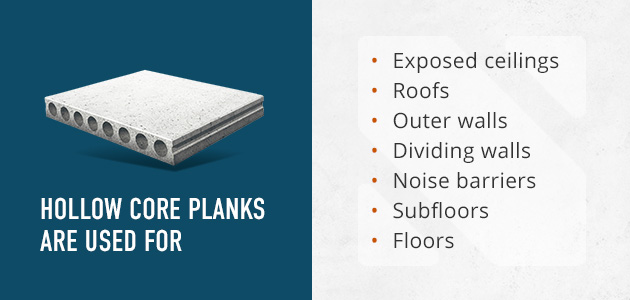 These planks are an excellent choice for projects that need resource-efficient construction, like affordable housing. Hollow core plank is also compatible with air conditioning, electrical, plumbing and heating systems.
Contact Nitterhouse Concrete Products about Hollow Core Plank
Nitterhouse is a manufacturer of precast concrete products, including hollow core plank. As a single-source provider, we can supply all the precast concrete products used in your building or structure. Our experienced staff can help integrate Nicore plank with every phase of your project, including:
Planning the structure with Design Assist services.
Manufacturing precast concrete components for your structure.
Erecting the structure at the job site.
Contact us today to learn more about the applications of NiCore hollow core plank.