Whether you're constructing a new warehouse for inventory storage or building onto your existing warehouse, precast concrete is a reliable, economical, affordable way to manage your construction needs. Nitterhouse Concrete, established in 1923, has been providing concrete solutions for decades, using the best building materials and techniques to provide you with durable, versatile and attractive precast concrete products.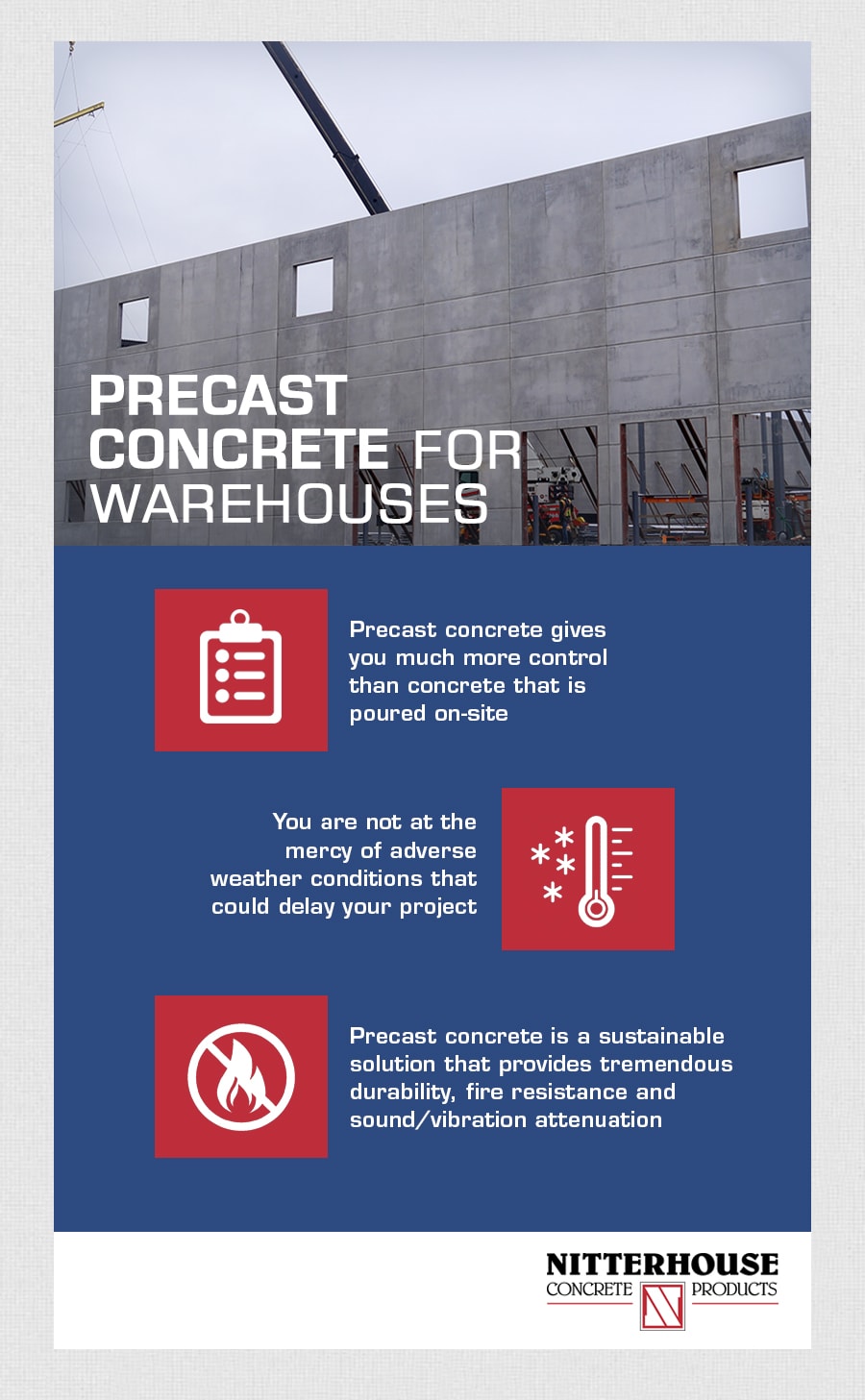 Why Use Precast
We provide precast products for the construction of schools, industrial buildings, hospitals, department stores and even parking structures for businesses in the Pennsylvania, New York, New Jersey and other Mid-Atlantic states. Construction professionals often prefer precast concrete when a job needs to be done reliably and on time for many reasons, including:
Precast concrete gives you much more control than concrete that is poured on-site
You are not at the mercy of adverse weather conditions that could delay your project
Precast concrete is a sustainable solution that provides tremendous durability, fire resistance and sound/vibration attenuation
Perfect for a Warehouse Build
If you need to get your warehouse up and running fast, precast concrete is a perfect solution. Precast wall panels are customizable and arrive easy to install, meaning a faster production schedule and lower labor costs. Our precast beams offer great structural integrity.
Some of our other popular products, like our Concore Floor, precast columns and NiCore™ hollow core plank can help you complete your warehouse with a structurally sound and eco-friendly construction you can be proud of. Our team of engineers works with expert designers and your project specifications to complete your project exactly as you want it, on time and at a price that's friendly to your budget.
Contact Us to Get Started
Your storage facility is an extremely important part of your business. You want a facility that can house and protect all your inventory in a structure that is comfortable for employees to work in and presents a positive appearance to any visiting executives, partners or potential clients.
Our precast concrete will have your project standing strong and looking great for years and years. Once you've seen what we can do for your warehouse, we have no doubt you'll come back to Nitterhouse for all of your construction projects.
If you're ready to find out more about Nitterhouse Concrete Products or speak with one of our experts about your warehouse, we'd love to hear from you. Get in touch with us today!