Nitterhouse Concrete was recently highlighted in Precast/Prestressed Concrete Institute's August magazine. Read PCI's project spotlight of our recent apartment build in Jersey City, NJ.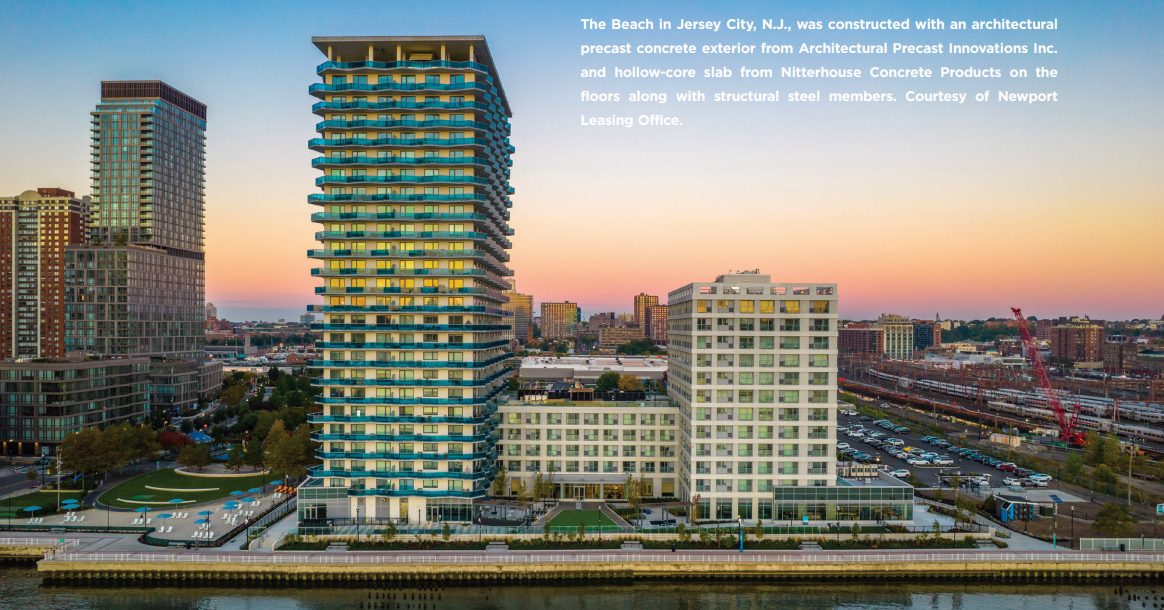 The Beach, a new, three-tower complex of residential apartments, is ideally situated in the Newport residential community on the Gold Coast in Jersey City, N.J. The Newport community is designed from the ground up to provide space, luxury, convenience, and a balanced lifestyle for its residents.
The general contractor, Tenth Street Construction LLC, and construction manager, Newport Construction LLC, of Jersey City, N.J., used precast concrete in much of the construction. "Precast was used in the twelve-story north tower and the five-story middle tower of The Beach," says Melissa Barron, director of Newport Construction. "The precast components consisted of architectural precast on the exterior that utilized formliner, colored concrete and sandblasted concrete, and hollow-core plank on the floors along with structural steel
members." Architectural Precast Innovations Inc. provided the exterior precast concrete panels, and Nitterhouse Concrete Products provided the hollow-core components.
For a number of reasons, Newport Construction frequently uses precast concrete. "We have always loved using precast concrete for its efficiency, durability, ease of installation, and the overall look, so we try to implement it whenever possible," says Barron. "This type of design is incredibly cost efficient. It is almost as if you get a structure and a facade for the price of one."
In addition, she says, precast concrete opens up more opportunities for design. Because the bearing and structural members are on the outside walls along with on the structural middle pieces, precasters can craft the outsides of these pieces to match the building's design intent. "Those pieces always need to be installed for the structure, but with precast, you get an added bonus of being able to make them look aesthetically pleasing with endless design possibilities," Barron says. "Another benefit of precast is the ease and efficiency of installation. Once all the pieces are made, they are shipped out and put together like Legos. In our experience, installation of precast usually takes a fraction of the time as compared with a reinforced concrete building."
There were some challenges with the project, though. "The main challenge was lining up the precast wing building to the reinforced building and aligning the timing," she says. "The reinforced building was installed first, so we needed to ensure the pieces lined up properly, the expansion joints were correct, and the floors were all the same heights."
In the end, though, it all paid off, in that the project benefited from precast concrete in several ways. "From a design perspective, using precast allowed us to create residences without columns, which created open and unobstructed floorplans," Barron says. "Precast also allowed us to maintain the project time line and schedule because the installation went so smoothly. Additionally, the thick precast exterior walls helped us pass our energy model, and the exterior will stand the test of time because the materials are so durable while still retaining the design concept." —William Atkinson