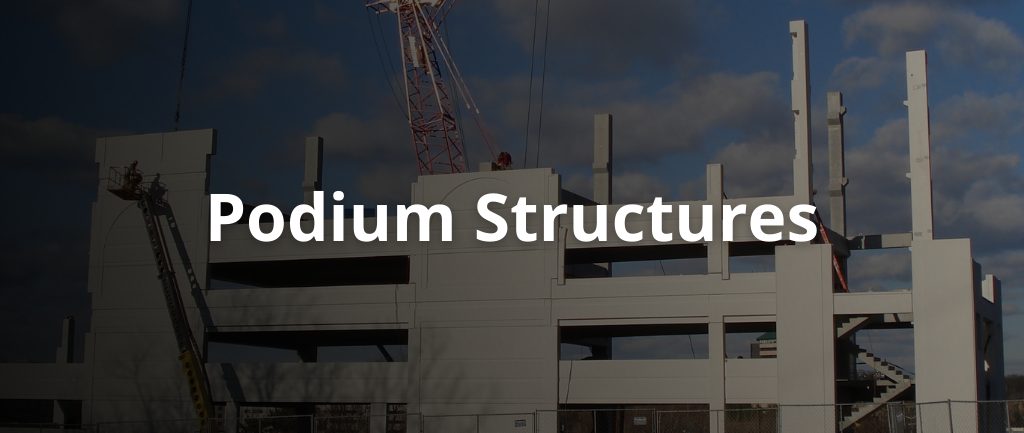 NiCore™ Plank – The Preferred Choice For Podium Structures
It is common knowledge that precast, prestressed hollow-core slabs have been a reliable and frequently-chosen construction material since the early 1960's. Designers, contractors, and owners are well aware of its high-performance benefits such as year-round construction, fast-track site erection, low maintenance, and long-term durability. Countless millions of square feet of 8" hollow-core slabs have been the "go-to choice" for floor and roof construction in hotels, apartments, schools, prisons, and a multitude of commercial buildings for over fifty years.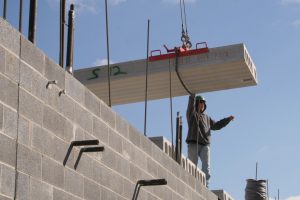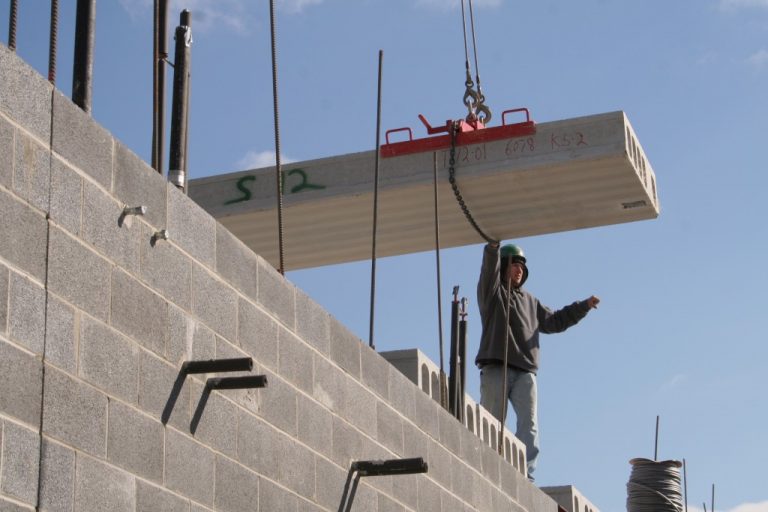 One of the fastest growing segments of multi-family housing today is the use of podium structures. Typically, these are comprised of ground level parking with 3-4 levels of conventional residential construction above, deriving their name from the "podium" that separates the two occupancies. Once again Nitterhouse Concrete Products, Inc. has raised the standard with its use of 16" NiCore™ Plank to construct the podium. Cast indoors in a factory-controlled environment and erected quickly at a rate often exceeding 40 units or 4,500 s.f. per day, these modular components are not subject to the limits imposed by custom forming and weather restrictions inherent with cast-in-place concrete construction. While podiums are an efficient solution for these types of structures, they present some challenges for which 16" NiCore™ Plank are well-suited:
The framing members above the podium are often not coincident with the framing below. As such, the podium also serves as a transfer slab to pick up conventional bearing walls above and distribute them to the supporting beams below.
The code-prescribed fire resistance rating is typically 2-hours or 3-hours.
Assuming normal vehicular parking spaces at 9'-0" wide a module of 29'-0" permits the use of three (3) spaces ganged together with no interference from the columns.
The flat surface of the bottom soffit provides a workable substrate for rigid insulation, if so required.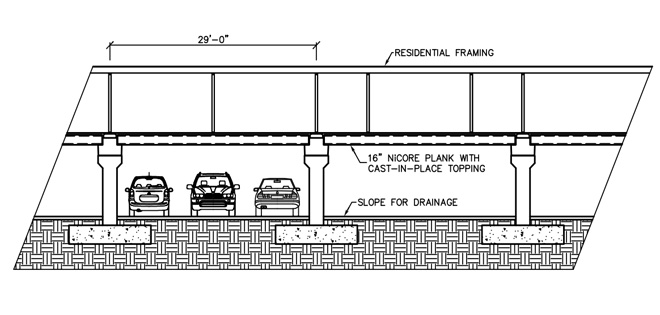 16" NiCore™ Plank with a 2"-3" thick cast-in-place composite concrete topping are capable of supporting a superimposed load of 390 psf with up to a 3-hour fire resistance rating on a 29'-0" span! And when combined with precast columns and precast/prestressed beams the podium structure is further enhanced by the same benefits they provide. So whether the podium is required to support multi-level conventional residential construction or a green roof with outdoor amenities, embarking on the design must begin with selecting 16" NiCore™ Plank from Nitterhouse Concrete Products, Inc. in Chambersburg, PA, a family-owned company serving the construction industry for over 90 years. Give us a call at 717-267-4505 or visit our website at www.nitterhouse.com for information on more quality precast, prestressed products to meet your design and construction needs.
Contact Nitterhouse Concrete Today
Similar Content from Nitterhouse Concrete: